By Ryan Gueningsman
Herald Journal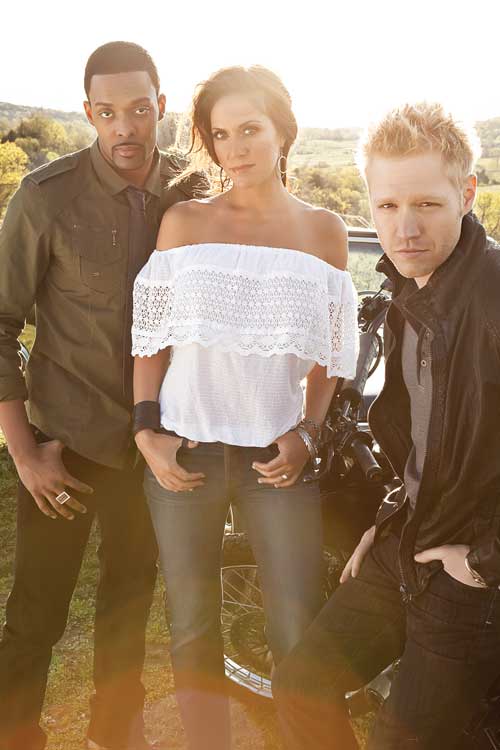 After performing hundreds of sold-out, headline shows with Kenny Chesney, Nowthen, Minnesota-native Nick Hoffman still remembers stepping onto the Winstock Country Music Festival stage in 1999 as part of local favorite High Noon.
The fiddler extraodinare is bringing his band, The Farm, to the Winstock stage Saturday at 2:35 p.m.
"Playing Winstock with High Noon was, at that time, a dream come true for me because we were a well-known local band, but even at that level of a local act, we never got to play big, huge stages with national acts like that," Hoffman recalled.
Stepping onto the Winstock stage and opening the show for acts such as John Michael Montgomery and Deana Carter that year whetted Hoffman's appetite for wanting to perform at that level all the time.
However, it wasn't his first venture to the big leagues. At age 17, he ran away from home and met up with Howard Lake native Bruce Hoffman (no relation), who is also an accomplished fiddle player and one of Nick Hoffman's mentors.
While Nick was growing up, his grandparents, Sybil and the late Harry Hoffman of Anoka, were very active in the fiddle contest circuit. Nick said Bruce's father, Ed Hoffman, and Sybil were good friends
"Naturally, as Bruce grew into the fiddler he was, my grandmother and he played together, as well," Nick said.
Bruce and Nick followed similar paths as Bruce started out in High Noon before making the move to Branson. Though Bruce and Nick were not in High Noon at the same time, Nick credits Bruce as "the guy that helped me get going."
"I owe a lot to Bruce and my career," Nick said. "I owe a lot of my early door-opening to him. He is one of the reasons I got the Kenny Chesney gig."
After spending some time in Branson, Nick returned home and became part of High Noon. Even at that point, moving to Nashville was an inevitable thing for the budding musician.
"I never saw it as not an option," Nick said. "But there's no doubt that playing Winstock in '99 was one of the catalysts that made me go 'I need to move to Nashville now rather than later.'"
So, he did. Nick moved to Nashville in January 2000. Enter Bruce Hoffman into the picture, again. As Nick recalls, when Kenny Chesney was looking for a fiddle player, he invited Bruce to audition, however Bruce was unable to do it due to obligations in Branson, but Bruce referred Nick to Chesney, and the rest, as they say, is history. Chesney hired the one-time Minnesota runaway, and Hoffman went on to perform alongside the country superstar for more than 10 years.
"I was lucky to start with Kenny when we were still a small organization," Nick said of when he joined the Chesney crew. "My first gig was in a club with a little over 500 people. I had the fortune of watching Kenny grow into the superstar that he is. He was an established act when I joined, but he wasn't this. We were all on one bus pulling a trailer.
"It was like going to country music college," Nick continued. "For a guy like myself that always had stars in his eyes and always knew that I wanted to be the artist myself, that I wanted to be on the radio, and make my own music, I sat back and watched how he did things and why he did things the way he did, and I asked questions and I learned from him. He's the master. He's one of the best performers and one of the best businessmen ever in country music. There's really no better teacher than Kenny Chesney."
Prior to his move to Nashville, Nick said it was his dream to someday perform onstage to 10,000 people.
"I figured, if I can be on the radio and maybe play for 10,000 people once, man I've made it," he said.
At first it was 10,000, and then it grew to concert audiences of 60,000-plus as Chesney's star rose.
"I'll never forget that first time we played a sold out arena," Hoffman said. "Then it kept getting bigger and we played for stadiums of people. Then we started filming music videos and I thought that was the coolest thing. Then we filmed a movie, and it kept getting bigger and bigger."
Through Chesney, Hoffman has been fortunate to play with some of his musical heroes, including George Jones, Tim McGraw, John Mellencamp, Steve Miller, Kid Rock, and Dave Matthews.
"All these people would join us on stage," Nick said. "For just a kid from Nowthen, Minnesota, just a map-dot on an intersection . . . you're watching a Minnesota boy's dream come true right before your eyes."
Which is what led to Hoffman's ultimate vision – his own band and his own music.
"It's all about The Farm," Nick said of his trio with Krista Marie and Damien Horne. "That's the real payoff."
The band has already had a couple hits with "Home Sweet Home" and "Be Grateful," and Nick said the band "is touring like crazy."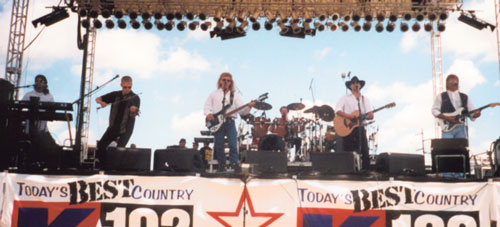 "The Farm has gained the reputation as a live act," he said. "The music is the first and foremost thing, but the three of us combined are a very direct unit that brings so much energy to the stage. It's one of those things you have to see to understand."
Nick said what makes The Farm so unique is the three musicians' distinctively different backgrounds. Horne had first moved to Nashville with an alternative-rock band, and ended up opening shows for R&B artist John Legend; while Krista Marie is a former solo artist with a background in opera and standards.
"When you combine the three of us, for some reason, one plus one plus one equals ten," Nick said. "That electricity makes us special."
So much so that when the three got together to write for the first time, there was no intent to form a group or do anything more than write a catchy tune.
"There was some kind of magic there that nobody expected, but that nobody could deny," Nick said.
Blending three established artists into one unit is sometimes something done by a record label head to develop a package that will sell, however for The Farm, it came almost by accident.
"It's gotta be something pretty special to get three individual trajectories to mash them together," Nick said. "That's a rare thing. When you look at the three of us, how different we are, you might think we were slapped together by some record label head, but the truth of it is it started at a pool at a songwriting session. I'm proud to share the stage with Damien and Krista."
In the midst of a full summer cross-country tour schedule, The Farm is heading back into the studio with famed producer Mark Bright to begin work on new material.
Whether it is now as one-third of The Farm, or spending more than 10 years with Chesney, for Hoffman, it all comes back to his Minnesota roots.
"I'm a fiercely, fiercely proud Minnesotan," Nick said. "I am so proud to be from Minnesota and I fly that flag everywhere I go. There isn't a show that I play that I don't tell people that I'm from Nowthen, Minnesota.
"There's not a single Packers fan that I don't hate," he said with a laugh.
Nick said a lot of people don't realize country music and Minnesota go hand-in-hand.
"People don't realize how rural and how country at its heart Minnesota is," he said. "I love turning people on to that. They say it's cold up there; I say it's beautiful up there."
Seeds that were planted on the Minnesota landscape in the late 1990s have grown to fruition now as Nick returns to the Winstock stage with his band.
"It's really special to me to have the first big show that I ever played be at Winstock, and then the first time that I come back with my full band with Krista and Damien and to do my first gig in Minnesota with a major record deal, which is exactly what I set out to do, to have that come full circle at Winstock is completely appropriate and ironically wonderful," Nick said.
Of course there will be a lot of Nick's family and friends at Winstock this year.
"Everybody from my grandma to the girl that dumped me in high school," he said with a laugh.
"It's just a proud moment for me, and it's a proud moment for Damien and Krista, too, because we're getting to bring The Farm party to Minnesota finally," Nick said.
Though he calls Nashville home now, Nick said he may try to make it to Target Field in July when Chesney is in town.
"I'm going to try to make it to support my boys," he said. "I miss those guys a lot. It's hard for me to stay away from those guys for too long."
Nick Hoffman will perform with The Farm at the 20th anniversary Winstock Country Music Festival Saturday, June 8 at 2:35 p.m.
For more information on The Farm, visit www.thefarmmusic.com
For more information on Winstock, visit www.winstockfestival.com, or call 888-946-7865.
Ryan Gueningsman is at ryan@heraldjournal.com.