Winstock 2015 campsite decorating contest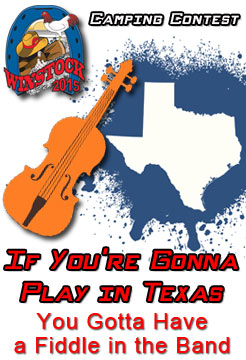 Plan ahead and be prepared to decorate your campsite according to this year's criteria. The grand prize in this year's campsite decorating contest will be provided by Midwest Machinery, and will be awarded to the overall best-decorated campsite based on this year's theme:

Decorate your campsites according to the Alabama hit "If You're Gonna Play in Texas (You Gotta Have a Fiddle in the Band)"

In addition to the overall grand prize, two additional CASH prizes will be awarded, according to the theme, with prizes provided by the Winstock 2015 promotional prize sponsors. The additional cash prizes will be based on campsites that are 1) the most originally-decorated; and 2) the site that has the most artistic value. An honorable mention will also be awarded at the judges' discretion.

All participants MUST register by 9 p.m. Friday, June 12 to be considered for judging. Registration will take place at the Winstock Information Tent from the time the gates open Friday until 9 p.m. Judging will take place Saturday morning and winners will be posted by 1 p.m. Saturday afternoon at the Winstock Information Tent. In the event of inclement weather, WINSTOCK will conduct a random drawing of registered participants to award the campsite decorating contest prizes. The drawing will be held at noon.

Please present photo ID to claim prize.
No double winners.
Judges' decisions are FINAL!
Mini-Biff Promotion
Four radio stations across Minnesota are giving away a padlock to a portable restroom.
Each portable restroom will be used exclusively by each contest winner for the weekend, will have the radio station's call letters, and a surprise bag that can be picked up at the Winstock Information Tent. This is a contest taking place prior to Winstock 2015.
For your chance to win your own portable restroom at Winstock 2015, listen to:
• K102, Minneapolis, 102.1 FM • KATO, Mankato, 93 FM • WILD Country 99, St. Cloud 98.9 FM • KARP, Hutchinson, 106.9 FM
Portable restrooms for this contest donated by Mini-Biff of Hutchinson.
Pre-show Beer Tent Bash
The annual Pre-show Beer Tent Bash will take place Saturday at 10:30 a.m., prizes included, with music by Mitch Gordon and the Unleaded Band. This special promotion will consist of two-for-one beverage specials, prizes, and surprises. No double prizes will be awarded. Your name can and will be drawn only once.