Toby Keith and Rascal Flatts were announced as the headliners for Winstock Country Music Festival 2014. A majority of the main stage lineup for the two-day country music and camping festival June 13-14 in Winsted was revealed this morning by the K102 Wakeup Crew.
Joining Toby Keith (Saturday) and Rascal Flatts (Friday) will be Billy Currington, Jerrod Niemann, Ashley Monroe, Mel Tillis, and Danielle Bradbery. One more main stage national act will be announced in the future, along with the regional acts and national emerging artists who will be appearing.

Toby Keith, presented by Ford F-Series, and Rascal Flatts bring a combined 46 number-one hits to the Winstock stage.
"Having these two top-of-the-line artists headline Winstock in 2014 is going to be a real treat for our fans," said Winstock Country Music Festival Chairman Dave Danielson.
Building an unparalleled musical legacy, a vibrant career at the top levels of entertainment, and a business empire worthy of a Forbes cover isn't easy, but it's not complicated either. In Toby Keith's case, there's genius in the simplicity. Keith's formula of continuing focus and musical discipline that has elevated his entertainment career, as well as ancillary businesses to support his efforts, will no doubt have Winstock goers raising their red Solo cups in salute when the Oklahoma native caps off Winstock's 21st celebration.
Since their musical debut in 2000, Rascal Flatts has sold over 21 million albums, 25 million digital downloads, and delivered 14 number-one singles to the top of the charts. As one of the hottest-selling acts on tour in any genre, they've sold over 7 million concert tickets, and counting. The trio has been through almost a complete metamorphosis of the business aspects of their career over the past couple years, joining forces with a new record label and management team. What hasn't changed is the soaring harmonies, superb musicianship, and their ability to write and select songs that speak to the hearts of their fans worldwide.
The Winstock 2014 headliners are complimented with radio mainstays Billy Currington (Friday) and Jerrod Niemann (Saturday), both who presently have songs on the charts and continue paving their way in the country music scene. Currington recently hit the number-one spot on the charts with "Hey Girl" and Niemann is quickly climbing the chart with "Drink to That All Night." Ashley Monroe, performing Saturday at Winstock, is the real deal. Her songs resonate so profoundly because they reflect the experiences of an artist who, although she is just 27, has already seen both the best and worst that life has to offer.
A treat is in store for fans of the television show "The Voice" with the addition to the lineup of Season Four winner Danielle Bradbery (Friday), who became the highest selling and youngest artist in the show's history. "The Heart Of Dixie" is following suit and is the first single from her soon to be released debut album on Big Machine Records. Coach Blake Shelton, who headlined Winstock '12, called Bradbery, "the most important artist to ever walk across The Voice stage."
Winstock is honored to bring 2014 Heritage Act Mel Tillis (Saturday) to the stage for the first time. The consummate live performer and comedian is a true entertainer. Tillis has written well over 1,000 songs, and approximately 600 have been recorded by major artists. He has had thirty-six Top Ten singles, with nine of them going to number one. A childhood bout of malaria left him with a chronic stutter, a trait he turned to his advantage as part of his affable, down-home persona. His show is as much comedy as music, and people watching Tillis are guaranteed to be entertained.
The Winstock 2014 schedule can be found HERE. Watch for more acts to be announced in the coming months.
Tickets and more information
Tickets to Winstock '14 are now on sale, and can be purchased online at shop.winstockfestival.com or by calling 888-946-7865. When tickets went on sale Wednesday morning, Winstock's VIP seating, along with campgrounds A and B, were sold out.
"The demand for tickets for 2014 was so high at the 2013 event that those three areas have already sold out," Danielson said. "However, we have plenty of campsites, reserved seating, and general admission tickets available for those who want to enjoy Winstock '14."
Winstock '13 was a complete sellout for the first time in its history, and organizers anticipate the same could easily happen in 2014. Fans are encouraged to place ticket orders early to guarantee their tickets and camp sites. General admission tickets cost $90 now through the April 13 earlybird deadline; reserved seating is $160, and camping passes are $100.
The Winstock committee and each Holy Trinity student expresses appreciation to all for the continuous support over the past 20 years.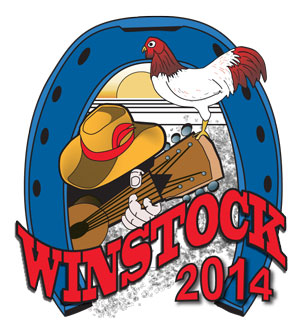 Information on Winstock '14 contests and promotions, sponsors, additional acts, the Winstock 2014 Rumble on the Road, and more will all be forthcoming over the next months. Stay in the know by signing up for Winstock E-mail news, and watch for updates on Facebook, Twitter, and at www.winstockfestival.com.
Be sure and "like" the Winstock Country Music Festival on Facebook, follow us on Twitter, sign up for Winstock e-mail news, and watch our website to get the latest news.