An entertainer whose star is continually on the rise, Justin Moore has been announced as the final national main stage act for Winstock 2014, set for June 13-14 in Winsted, MN. The K102 Wakeup Crew announced Nov. 26 that Moore will perform immediately before Winstock '14 headliner Toby Keith Saturday, June 14. Donna and Muss also revealed that hot up-and-comer Chase Rice will perform on Winstock's emerging Artist Stage Friday, June 13. Keeping it in the family, Krystal Keith, who is Toby's daughter, will perform on the Emerging Artist Stage Saturday, June 14.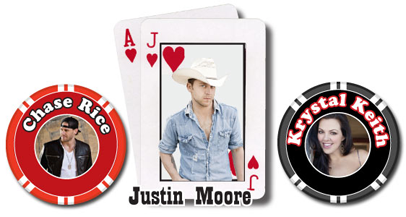 Arkansas native Moore has begun making his mark on the country radio charts with three number-one hits in the anything but big city "Small Town USA," the sentimental family embracing "If Heaven Wasn't So Far Away" and the fidelity pledge "Til My Last Day," in addition to the recent hit "Point at You."
"We have heard some great things about Justin's live shows, and we're excited he'll be part of Winstock '14," said Winstock Country Music Festival Chairman Dave Danielson. "Chase Rice is also becoming increasingly-popular and will be the perfect fit for our Emerging Artist stage."
Rice, the co-writer of the Florida Georgia Line hit "Cruise," is also blazing his own trail into the country music world. After moving to Music City in late 2010, Rice recorded an album, Dirt Road Communion, on his own Dack Janiel's label and quickly beat the odds. He landed it on the Billboard Country Album chart, and launched one of his singles, "How She Rolls," onto Hot Country Songs. In a world dominated by corporations, that's no small feat for an artist working on his own. "Cruise" literally re-wrote the country music history books, setting an all-time record by spending more weeks at number one on the country singles chart than any other song, and now Rice is writing his own country music history, one song and one show at a time.
No matter how compelling Krystal Keith's voice, songwriting, self-titled EP and debut album Whiskey & Lace may be, there's no getting around the shadow of a musical superstar in the room. Not that she'd want to, of course. Krystal's father, Winstock Country Music Festival 2014 headliner Toby Keith contributed several songs and co-produced the project with Mark Wright.
"You can't have a better mentor," she said. "As a songwriter, as a vocalist – and he's also my dad, so I get the best of all worlds wrapped up in one person." Krystal made her national television debut in prime time as a teenager, singing "Mockingbird" with her father on a 2004 awards show.
Also announced were local acts Shane Martin Band, Maiden Dixie, Roadhouse 6, and Tim Sigler Band. Shane Martin will perform Thursday night in the beer tent from 7-11 p.m., Maiden Dixie will kick things off on the main stage Friday at 4:30, Roadhouse 6 will perform Friday night on the emerging artist stage at 5:45 p.m. and again Saturday during the always-popular pre-show beer tent party at 10:30 a.m., and Tim Sigler will open the main stage Saturday at 12:30 p.m.
Headliners Toby Keith (Saturday) and Rascal Flatts (Friday) will be joined at Winstock by Moore, Billy Currington, Jerrod Niemann, Mel Tillis, Ashley Monroe, Danielle Bradbery, Chase Rice, and Krystal Keith. One more emerging artist will be announced in the future.
The Winstock 2014 schedule can be found HERE.
The Winstock 2014 Rumble on the Road schedule has also been announced and can be found HERE. The Rumble on the Road features stops at area bars for top-notch music, drink specials, and visits from favorite radio personalities as we gear up for Winstock 2014.
Tickets and more information
Tickets to Winstock '14 are on sale, and can be purchased online at shop.winstockfestival.com or by calling 888-946-7865. Winstock's VIP seating, along with campgrounds A and B, are sold out.
Winstock '13 was a complete sellout for the first time in its history, and organizers anticipate the same could easily happen in 2014. Fans are encouraged to place ticket orders early to guarantee their tickets and camp sites. General admission tickets cost $90 now through the April 13 earlybird deadline; reserved seating is $160, and camping passes are $95.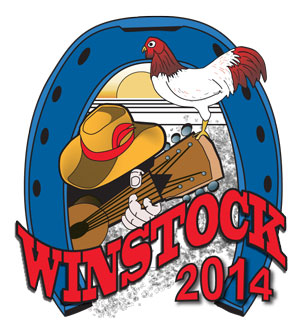 Information on Winstock '14 contests and promotions, sponsors, additional acts, and more will all be forthcoming over the next months. Stay in the know by signing up for Winstock E-mail news, and watch for updates on Facebook, Twitter, and at www.winstockfestival.com.
Be sure and "like" the Winstock Country Music Festival on Facebook, follow us on Twitter, sign up for Winstock e-mail news, and watch our website to get the latest news.